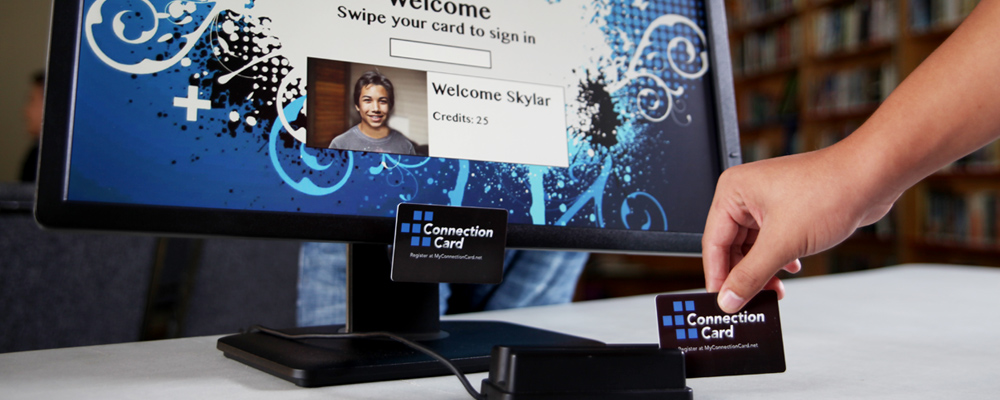 Connection Card
There is no other solution available today which is as inexpensive
and as feature-rich as Connection Card.
Feature

Church Plant

Small

Medium

Unlimited

30 Day Free Trial
Use this time to try it out before purchasing.

Referral Program
Earn $10 cash or one month free for each new account you refer.

Card Check-in / Check-out System


Use for weekly meetings or other events.

Track Attendance (Automated)

Keep database of members and attendees

Mailing Address Lookup with Reverse Phone Search

Easy Visitor / New Guest Registration

Link to Students' Facebook Accounts

Online Interface for Card Holding Users


Users can check balances, register for events, and more online.

Instantly Generate Reports


From hundreds of options.

Easily Customizable from Online Interface

Integration with Web Cams

Event Management and Registration


Create/Manage Mission Trips, Camps, and any kind of event.

Generate and Print Barcodes

Special Access Accounts for Administrators

Secure Personal Information


Proprietary encoding and encryption keeps data secure.

Automated E-mail Management and Lists

Integration with Student Leadership Teams

Custom Organization of Small Groups / Classes


Create/Manage Sunday School classes, Small Groups, Care Groups, Life Groups, Cell Groups, any kind of group.

Custom Organization of Work Teams / Crews


Create/Manage Committees, Work Crews, Work Teams, etc..

No Software to Install


Use on any computer in the world with internet access.

Concession Stand / Store Features

Video Game Controller and Item Rental


Checkout, Deposits, and Return

Random Drawing of Checked-in Students


Use for games or giveaways.

No extra license fees for additional users

Card can be used Around the World


At any Connection Card enabled facility.

Constant Updates and Improvements

Use as Complete Church Management Solution


Use with all church members, cards not required.

Mobile Web-App


View and record attendance and other functions on your iPhone, iPod or Android.

Use one account across multiple Departments

Create Divisions for easy organization and use

Library Features


Book/Media Check-out. Global database of media.

Time Clock Add-On Module


Track leader, staff and volunteer hours.

Optional Add-On

$3/month ($30/year)

No Time Commitments / Contracts


Use Connection Card as long as you like, cancel your account anytime.

Locked Rates - Our Promise to You!


We will never increase your account fees (see details).

Maximum Card Users


Number of Plastic Cards your account may have.

Up to 50

Up to 250

Up to 1,000

Unlimited

Maximum Person Records


Number of active person records.

Up to 200

Up to 500

Up to 1,000

Unlimited

Maximum Administrative Users


Unlimited

Purchase Connection Card or Start your free trial
One-Time Activation Fee

$24.95

$24.95

$24.95

$24.95

Monthly Fee

$10

$20

$30

$65
Why does Connection Card cost so much less?
Connection Card is equivalent, if not better, than any other similar product currently available in both the church management market and the plastic card system market. The number one reason why Connection Card costs so much less is because stewardship matters! Ministries and organizations that want to be efficient with their resources can't afford to spend thousands of dollars on administration software. Secondly, most churches and small ministries can't afford the costly alternatives currently on the market, but still have the same need for a complete administration solution.

In 2009, Connection Card, in its simplest form, was developed by a youth pastor to be used as a Plastic Card Check-In System for his youth group. Since then, Connection Card has transformed into a complete church, youth, and children ministry management and administration solution which includes a plastic card check-in/out system, attendance tracking, reporting, and many other features seen above. Connection Card also includes additional features for camps and is soon releasing features for schools.
Connection Card is web-based, may be used on any PC, Mac, Linux, or Android computer and does not require additional licenses for additional users or computers.

Connection Card offers many cost-effective options

Card System: Students, guests, and users can sign in using a plastic card system. This is cheaper, more accurate, and more reliable than touch screen or other methods which are open to human error or typo.

Touch Screen: Connection Card offers touch screen options, and using new Android-based touch screen computer systems with large touch screen monitors, organizations can now have a complete touch-screen kiosk up an running for less than $500.

Smartphone/Tablet Check-In: Connection Card may also be used with your iOS or Android phone or tablet, providing easy mobile check-in and other features no matter where you are.
Sign-Up to use Connection Card for Your Ministry
* - Comparison Prices based on publicly available pricing on product web sites.

Sign up for our E-mail Newsletter